The latest and greatest from Patio Ponds!
When it comes to pond filtration, size matters. But performance matters more. What good is a small filter if it doesn't keep a pond looking great? Likewise, what good is a large filter if it can't be hidden from view? With the new VistaClear filter from Patio Ponds, you no longer have to compromise between performance and being discreet. The VistaClear's novel two-chamber wet/dry design took years to perfect. It combines top-notch mechanical filtration and superior wet/dry biological filtration to maximize performance and minimize space. In other words, this filter may be small, but it works as hard as filters twice its size. Like all Patio Ponds filters, the VistaClear is constructed of only the highest quality materials and components. Matala™ provides excellent biological filtration while our top-quality filter brushes trap harmful solid wastes. Outside, the filter body & lid are rotomolded, not vacuumed formed. This makes the VistaClear rigid and strong enough to carry our Lifetime Filter Body Guarantee. The VistaClear is available in an array of color choices, making it easy to incorporate into any landscape. Place it anywhere: behind a bush, under a bench or even out in the open. Whether in a formal English courtyard, a serene Japanese garden or a desert oasis, the VistaClear is sure to keep the pond clean while maintaining harmony with the garden. Compare the VistaClear to other filters and you'll see that it delivers more filter media and more performance, per dollar and per cubic inch, than any other filter available today. Even better, the VistaClear is surprisingly easy to maintain. Just shake the brushes and drain all the dirt away. Simple, isn't it? We think so.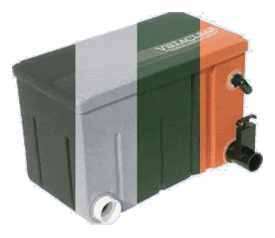 The Vista Clear comes in 4 unique great colors!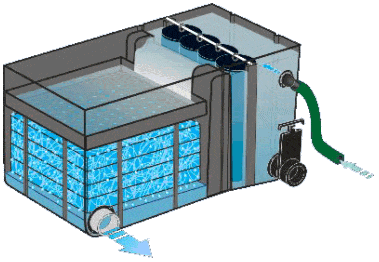 Click image for a larger schematic of the Vista Clear!
| | | | | | |
| --- | --- | --- | --- | --- | --- |
| Inlet | Output | Max Flow | Dimensions (L x W x H) | Weight | MSRP |
| 1" | 2" | 900 GPH | 23.5" x 12.5" x 15" | 18 lbs. | $359.95 |
Features:
• Full Lid
• Dense brushes to trap debris
• Durable biological Matala™ filter matting
• Includes easy open drain valves
Recommended Pumps/Accessories:
Submersible Pumps
• Pondmaster 1800
• Pondmaster 2400
External Pumps
• Sequence 750 Pump, 3600SEQ12